History
A School of Champions!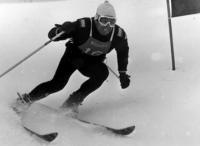 A long story directly connected with the past and the future of the Hellenic skiing follows ski school ski Pappos - Baldoumis.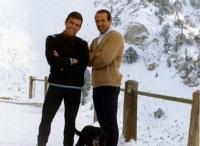 The founders and directors have more than 40 years of continuous presence in Parnassos ski center, and over 60 years of experience in skiing on the mountains of Greece and abroad.
The first ski school in Greece was founded back in 1977 ski season by Dimitris Pappos and Tilemachos Balntoumis, former Greek champions in alpine racing skiing for more than twenty years (1956-1978).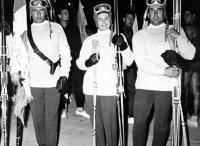 The family tradition that made the children of two champions to engage passionately with racing skiing and the future of skiing in Greece, led Stergios Pappos and Vassilis Baldoumis to continue the operation of the ski school.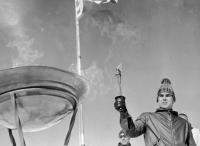 As second generation now, plans developed by creating the largest ski school in Greece with more than 40 ski and snowboard instructors.
The beggining of two friends
it all started in 1956 on Mt.Seli in region of Macedonia. As members of the Hellenic Special Forces and its ski team the two Special Forces Commando officers trained to ski, and the friendship that united them was even more than brotherly.
Training together in the national team, together on Mt Olympus, were they remained on the mountain in the Special Forces mountain training center for 20 harsh winters.
Basic members of the Hellenic National ski team, since 1958, they took part in numerous competitions abroad, World Cups, World Championships with leading participations the Winter Olympic Games Innsbruck 1964, Austria and Grenoble 1968, France.
They travel to many ski resorts all over the world having one and only desire, to be able to share their experiences and what they learned with other skiers and to give education to the widest possible Greeks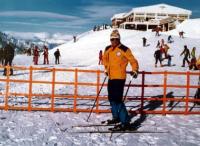 In 1972 they trained as ski instructors from the National Association of skiing instructors in Austria (OSLV) and took the first license to teach skiing in Greece.
In 1975, they are invited to Mt Parnassos to participate in the construction, the design and subsequent operation of the ski centre, in collaboration with the French manufacturers company POMA, as the Greek experts.
In 1977 they found Ski School Parnassos as the official ski school that has since initiation in skiing thousands of people.
In 1982 they are the first founding members of the National Union of Skiing Instructors & Trainers.
In 1983 they awarded by the Academy of Athens for the rescue of a Belgian climber who had fallen into a ravine on the slopes of Mount Parnassos.
Next Generation
Following their father's footsteps, Stergios Pappos, Vassilis Baldoumis and Maroussa Pappou, found since babies with a pair of skis on the feet, while growing up it was almost impossible not to get involved with racing skiing
Vasilis is the eldest and was a member of the national team in alpine skiing, with dozens of participations in international races. He served for at least 10 years as coach in alpine skiing teams and sports clubs. From 1994 to 2000 he was head coach of the National Snowboard Team, with attendances at World Cups, World Championships and Olympic Team at the Olympic Games in Nagano 1998, Japan.Key member of the snowboard technical committee, at the International Ski Federation (FIS) 1994-2000.He holds ski trainer licensed to practice since 1987 and ski instructor by the National Association of Instructors of Austria (OSLV) since 1992.Graduate Physicist from the National University of Athens.         
Stergios has been Greek champion in alpine skiing for many years and a member of the National Teams of all categories with dozens of entries in international competitions, World Cups, World Championships and Olympic Games (1992 Albertville, France).From 1995-2001 was Greek champion in alpine snowboard, also participating in dozens of international races, World Cups, World Championships and Olympic Games (Nagano 1998, Japan).He holds ski trainer licensed to practice since 1996 and ski instructor by the National Association of Instructors of Austria (OSLV) since 1992.The only Greek athlete participated in two different winter Olympics in two different sports. National coach in the Hellenic Ski Team since 2013.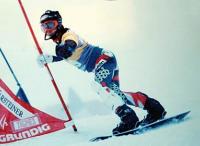 Maroussa was Greek champion for many years winning eight consecutive championships in Alpine Snowboard.She participated in dozens of international races, World Championships and World Cups as well.She also participates in Olympics of Nagano 1998, Japan, winning the 21st position, best result as a Greek racer until now in the Winter Olympics.She holds a ski trainer licensed to practice since 1999.