Ski School
Ski school Pappos - Baldoumis was founded in 1977.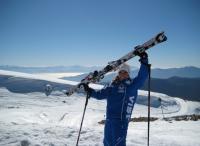 Since then, Ski school Pappos Baldoumis, operated continuously at Parnassos ski centre and having introduce thousands of skiers to the secrets of skiing and snowboarding.
Is the largest ski and snowboard school in Greece and staffed with over 40 professional instructors for all levels and ages.
Purpose of School Skiing Pappos - Baldoumis is the teaching of skiing and snowboard technique at every level, from children and beginners, up to specialized training for athletes and even extreme skiing courses.
The purpose and goal of our school is the fun of the sport with the best and safe teaching methods, together with the creation of ski culture, which means respect for the mountain and the skiers & snowboarders.